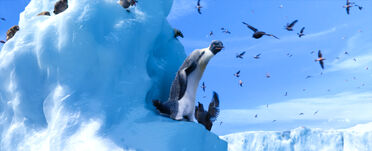 Noah the Elder is the ageing patriach in Emperor-Land.He is the oldest character from Happy Feet movie.
Movie Appearances
Edit
Happy Feet
Edit
Noah leads the males in the endless night.And he make a huddle in Emperor-Land.And he also knows about Mumble can't singing a single note.So he kicked out Mumble from Emperor-Land,with his friends too,The Amigos.Then when Mumble back,he interested to following Mumble dancing,and finally he dancing happily.
Happy Feet Two
Edit
Noah still leads the Emperor-Land,and he not  appear very much  in the second movie.Because Noah is the secondary character in Happy Feet Two.
Personality
Edit
Noah is very like as government worker.And also leads very wise. He sometimes blames on Mumble for the lack of fish and has a strong sense what is right and wrong.
Voice Cast
Edit
Noah is voiced by Hugo Weaving
Eggbert: Noah's best friend
The Elders: Noah's servants.
Noah has a best friend named Eggbert.
Noah's gender is a male.
Noah is voiced by Hugo Weaving who did Redskull who was the main antagonist of from the Marvel series Captain America.
Noah's species is either a Emeperor or King Penguin.
Noah is the leader of the Elders.