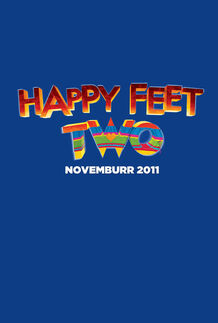 HAPPY FEET TWO
is sequel from
Happy Feet
.This movie is about
Mumble
,master of tap,has a problem with his son,
Erik
.Erik is very reluctant to trying dancing.He runs away and meets
The Mighty Sven
.A penguin who can fly!Erik says The Mighty Sven is his hero.And Mumble,he can't beat Sven.But later,Erik says back to Mumble he is the real hero.And also forget the ability to fly from Sven.
Happy Feet Two was released at November 2011 in theaters and 3D.Also there is appeared new characters.There is The Mighty Sven,Carmen,Bryan the Beach Master,and more new characters.And, in the second film,Happy Feet Two,replacing three voice cast.Theese are Brittany Murphy,Steve Irwin,and Fat Joe who voiced Gloria,Trev,and Seymour in the first movie,now has a New voices.Gloria voiced by Alecia Moore(Pink),Trev voiced by Richard Cater,who also voiced Bryan the Beach Master,and Seymour voiced by Common.This movie will released with Looney Tunes short called I Tawt I Taw a Puddy Tat,at November 18.
Mumble and Gloria's son,Erik is reluctant to dancing with the dancing emperors in the Emperor-Land.After he trying dancing,he falls out to the ice and get embarrased with all chicks.Erik runs away from Emperor-Land,and go with Atticus and Bo following Ramon to Adelie-Land.In the Adelie-Land,Erik meets The Mighty Sven.Sven is the penguin who can fly! After Sven appeared,Emperor-Land was trapped in the ice,make the worst condition.
Later, the help go to Emperor-Land with Ramon,The Amigos,Ramon's love interest,Carmen, and Adelie Penguins.Lead by Sven,helping Emperor-Land.Also,Erik learns "guts and gits" from Elephant Seals,and his father.
Elijah Wood as Mumble the protagonist.
Robin Williams as Ramon the deurtagonist.
Hank Azaria as Sven the puffin and the triagonist.
Brad Pitt as Will the krill
Matt Damon as Bill the krill
Ava Acres as Erik
Meibh Campbell as Boadicia
Lil-P-Nut as Atticus
Alecia Moore(P!NK) as Gloria
Sofia Vergara as Carmen
Hugo Weaving as Noah the Elder leader of the penguin nation.
Richard Carter as Bryan the Beachmaster
Robin Williams as Lovelace
Common as Seymour
Magda Szubanski as Mrs Viola
Richard Carter as Bryan the Beah Master
Anthony La Paglia as Alpha Skua AKA Yellowleg leader of the skua birds and the secondary antagonist of the film.
Lee Ross as the Leopard Seal and the teirtary antagonist.
Hugh Jackman as Memphis
Nicole Kidman as Norma Jean
The Doomberg is the main antagonist of the sequel.