This page is about all Happy Feet series.Includes characters,movies info,and more.
Happy Feet is th first movie in Happy Feet series.And about the emperor penguin named Mumble,who face being different.He transform into hero and tells about "aliens" in the story.Mumble meets some friends in there,like Gloria,Seymour,Mrs Viola,and more.Happy Feet released at November 17 th 2006.
Happy Feet Two is the sequel from Happy Feet.And about
Mumble
and
Gloria
's son,
Erik
,is reluctant to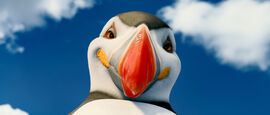 dancing.Erik runs away and meets
The Mighty Sven
.A penguin who can fly.Erik just believe with Sven,and doesn't have to care with his father.Mumble.Happy Feet Two released at November 18 th 2011.
Happy Feet Three is the possible sequel from Happy Feet Two.Still unknown about release date,and story of Happy Feet Three.
Cast and Characters
Edit
For the cast,see List of Happy Feet voice cast.
For the characters,see List of characters.
Character
Voice Cast
Happy Feet
Happy Feet Two
Happy Feet Three
Mumble
Elijah Wood
Appear
Appear
Unknown (PossbilyAppear)
Ramon
Robin Williams
Appear
Appear
Unknown (Possbly appear)
Gloria

Brittany Murphy and Alecia Moore(P!NK)

Edit
Appear
Appear
Unknown (possibly appear)
Erik
Ava Acres
Silent and Uncredited Cameo
Appear
Unknown (possbly appear)
Boadicia
Meibh Campbell
Not appear
Appear
Unknwon (possibly appear)
Atticus
Lil-P'Nut
Not Appear
Appear
Unknown(possibly appear)
Memphis
Hugh Jackman
Appear
Uncredited Cameo
Not appear
Norma Jean
Nicole Kidman
Appear
Uncredited Cameo
Not appear
Nestor
Carlos Alazraqui
Appear
Appear
Unknown
Raul
Lombardo Boyar
Appear
Appear
Unknown
Lomabardo
Johny A Sanchez
Appear
Appear
Unknown
Rinaldo
Jeffrey Garcia
Appear
Appear
Unknown
Noah the Elder
Hugo Weaving
Appear
Appear
Unknown
Seymour
Fat Joe and Common
Appear
Appear
Unknown (possibly appear)
Will the Krill
Brad Pitt
Not appear
Appear
Unknown
Bill the Krill
Matt Damon
Not appear
Appear
Unknown
Carmen
Sofia Vergara
Not appear
Appear
Unknown (possibly appear)
Miss Viola
Magda Szubanski
Appear
Appear
Unknown
The Mighty Sven
Hank Azaria
Not appear
Appear
Unknown (possibly appear)
Lovelace
Robin Williams
Appear
Appear
Unknown
Bryan the Beach Master
Richard Carter
Not appear
Appear
Unknown
Boss Skua/AlphaSkua
Anthony LaPaglia
Appear
Appear
Not appear
Third Movie
Edit
Main Article : Happy Feet Three
The Sequel of Happy Feet Two,is Happy Feet Three(or maybe the tittle is Happy Feet 3).Will released at future.And still unknown about the story and the release date.But the film is still setting in Antarctica,also some people thinks,Happy Feet Three will released at 2016,2017,or 2018.
Happy Feet Three is still the possible sequel.And the sequel will be release at future,or Happy Feet Three will not released yet.
Image Gallery
Edit