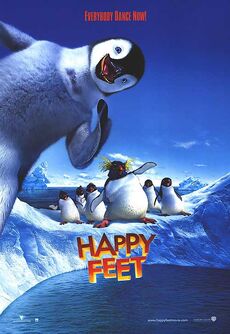 Happy Feet
is the first film in
Happy Feet series
.Happy Feet tells about an Emperor Penguin named
Mumble
, a tap-dancer, being different from his Emperor colony.Starring Elijah Wood,Robin Willliams,Brittany Murphy,Hugh Jackman,Nicole Kidman,and Hugo Weaving.Happy Feet was released at November 17th.
Mumble,is the son of Memphis and Norma Jean.He is knowns as the worst singer in Emperor-Land.But he has ability to dancing,and when he growns up,he seems has the fluffy down.Then he meets Gloria,his love interest,and also wants to know who take the fish and make a contact with aliens.
Elijah Wood as Mumble the main protagonist
Robin Williams as Ramon the deurtagonist and Lovelace the triagonist.
Brittany Murphy as Gloria the love interest of Mumble.
Hugh Jaackman as Memphis Mumble's father.
Nicole Kidman as Norma Jean Mumble's mother.
Hugo Weaving as Noah the Elder the leader of the penguin nation.
Carlos Alazraqui as Nestor
Johny A Sanchez as Lombardo
Lombardo Boyar as Raul
Jeffry Garcia as Rinaldo
Steve Irwin as Trev the elephant seal.
Magda Szubanski as Mrs Viola
Miriam Margolyes as Mrs Astrakhan
Fat Joe as Seymour
Elizabeth Daily as Baby Mumble
Alyssa Shafer as Baby Gloria
Cessar Flores as Baby Seymour
Anthony La Paglia as Yellow Leg the boss Skua leader of the skuas and the main antagonist.
Frank Welker as the Killer whales and the final antagonists of the film.
Roger Rose as the Leopard Seal and the secondary antagonist.
Soundtrack
Edit
A sequel called Happy Feet Two was released on November 18 2011. Elijah Wood, Robin Williams, and Hugh Jackman reprise their roles as Mumble, Ramon and Lovelace And Memphis.